---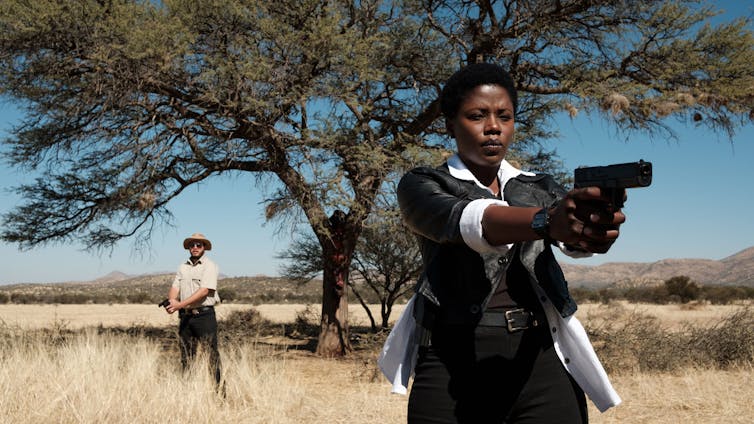 ---
Under the Hanging Tree is a new film written, directed and produced by Perivi Katjavivi, a young, up-and-coming Namibian filmmaker.
Despite two decades of gradual growth in the fledgling Namibian film industry, only about 20 features have been produced by the southern African country so far.
Katjavivi's efforts at writing, directing and producing are to be lauded. Under the Hangman's Tree is his third feature and it premiered in the official selection of the prestigious International Film Festival Rotterdam. Katjavivi's films offer political themes that reveal the dark underbelly of Namibian society. His narratives expose the devastating effects of colonialism, still felt today.
Under the Hanging Tree is about Christina, a police officer who must investigate a murder on a farm. She is a Herero woman who has given up her tradition and culture in pursuit of a successful career.
The mostly nomadic Ovaherero people were a Bantu grouping who arrived in central Namibia in the 1700s. Their descendants constitute 9% of the population today.
Between 1904 and 1908 tens of thousands of Herero and Nama people were massacred by forces of the German empire in a genocidal act of ethnic cleansing. This is described as the first genocide of the twentieth century and a "dress rehearsal" for the Holocaust that was to take place in Europe a few decades later.
This poignant film traces the growth of Christina's character from a young woman who is colonised and uprooted from her culture to one who acknowledges her heritage and its tragic history. The film plays out slowly – sometimes too slowly – but in the process it grasps the heart of the matter. It leaves a viewer thinking deeply about how the past influences the present.
Opening scenes
The two opening scenes juxtapose one another and set the tone for the rest of the story.
An old Herero man at a ritual fire is invoking his ancestors and calling on them to come and bless their children. This cuts to Christina, arguing with her aunt Ndjambi, an elder who wears the typical Herero dress. She wants her niece to help hang their clothes out to dry but they argue. Christina considers it undignified to do this kind of work because she is educated and a professional.
The Hanging Tree will proceed to gradually unfold, revealing a society torn between the old and the new, between tradition and modernity.
What it's about
---
In his story, Katjavivi brings to life the transgenerational trauma of a community. The film is alive to the mood of the nation, where discussions around German genocide reparations are a highly charged and sensitive topic.
Katjavivi makes the bold decision to focus on the death of one German Namibian to present the theme of genocide at a microscopic level.
---
Film noir
The film has a contemporary approach, adopting a noir style of storytelling. Film noir is commonly a dark detective film with stark lighting revealing bleak settings, intricate plots and an underlying existentialist philosophy.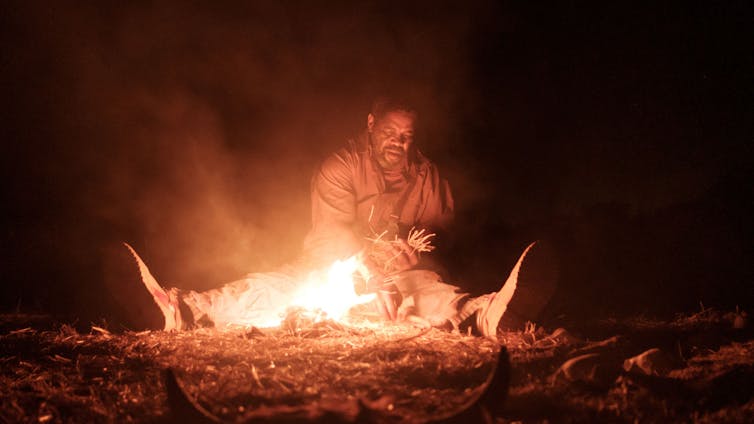 ---
Under the Hanging Tree also uses Otjiherero sayings to good effect as scene headings, indicating the chapter to come.
Katjavivi doesn't fall into the trap of making a commercial thriller. Instead, he chooses to tell a story which is slower, more critical, compulsive to watch and crucial.
Under the Hanging Tree starts out as a police procedural, but is not a whodunnit. Instead it's a reflection on young Namibians, born after independence in 1990, who are unaware of or choose to ignore their country's painful history. Katjavivi handles Christina's growth in consciousness with sensitivity and courage.
The tree, says her aunt in one scene, is the "womb" from which all people emerge, referencing indigenous knowledge systems. Christina can run, but she cannot escape her culture.
Is it any good?
The slow first half delves into Christina's life and work. The cinematography tells a deeper story. Using long shots, it captures an arid and beautiful Namibian landscape so vast that humans seem insignificant. Christina is shown through window bars and door frames, trapped in her reality.
---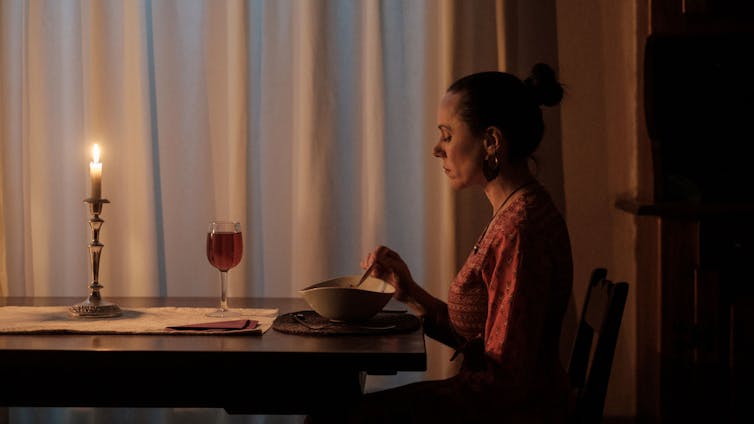 ---
Similarly, sound is put to effective use. Classical music underscores the German characters, but Herero characters bring with them sounds of nature that serve to heighten the tense atmosphere.
The second half picks up speed, with events unfolding in quick succession towards an unexpected resolution.
I have always felt that Namibian stories are best told by Namibians and Katjavivi rises to the challenge. He has succeeded in bringing to life the past and its impact on the present. There are countless human stories of Namibia's genocide that must still be recorded. But this is not enough. They have to be listened to, watched and explored.
Katjavivi is aware that it is only through telling them over and over again that there can be healing.
---